Mitsubishi Electric Air Conditioning Service in Cairns
Home » Mitsubishi Electric Air Conditioners Cairns
In Cairns, Mitsubishi electric air conditioners are one of the most well-regarded and well-known units for both commercial and domestic applications. They're backed up by years of technological advances and expertise as well as boasting a variety of air-conditioning systems. But for them to operate at their best, air-conditioners need to be cared for with regular maintenance.
Why Your Mitsubishi Electric Air Conditioner Isn't Working
Although Mitsubishi is a widely popular brand known for its quality, its units are no strangers to problems brought by extreme weather, negligence, short-cycling, and other external factors.
One reason why your A/C may malfunction is filters that are clogged by dust or debris, which restricts airflow and makes the unit unable to cycle cool air back into your home. 
Refrigerant leaks are also a common nuisance. Call an expert technician if you notice hissing noises, ice crystals, or that your unit only functions properly at night when it's cooler. Other reasons to call a technician could include frozen evaporator coils, leaking ducts, faulty fans and dirty condenser coils. 
A/C Service Repairs & Maintenance in Cairns
Here at Easy Cool Air, we have been working to ensure Cairns residents have well-functioning air-conditioners and comfortable, cool air in their homes. If you need Mitsubishi Electric air conditioning service in Cairns, give us a call. We do 24/7 emergency calls for repairs, scheduled maintenance for residential and commercial A/C units, and thorough hydro sanitise cleaning.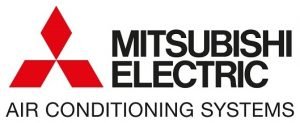 About Mitsubishi Electric Air Conditioners
Not quite 100 years old, another Japanese multi-national Mitsubishi Electric first began their air conditioning journey producing electric fans. Whereas nowadays, they boast 'today technology' with their range of domestic air conditioning systems.
Offering single room systems such as wall mounted split, floor console, ceiling mounted and bulkhead models. Multiple room and whole house systems consisting of ducted or even mini-VRF systems too.
Their commercial applications are equally impressive – featuring 4-way ceiling cassette, compact bulkhead, ceiling-concealed, ceiling suspended, and wall mounted.
Once again, hi-tech zone controllers and smart device connectivity available.
Mitsubishi Electric has a 5-year labour, parts & compressor warranty for their domestic range.
GET FREE QUOTE NOW