Air Conditioning Maintenance: Your Complete Guide
Few things can compare to the relief and comfort an air conditioner can provide on a hot day, but like most mechanical systems, air conditioning units need regular servicing and maintenance to ensure they're operating in tip-top condition.
In this guide, we'll fill you in on everything you need to know about air conditioning maintenance so you can rest easy in cool comfort knowing your air conditioner is operating both safely and efficiently.
CALL 07 4281 6824
The Importance of Regular Maintenance
Regularly servicing and maintaining your air conditioning comes with a long list of benefits. Not only can it preserve the system warranty, but it also ensures the system is functioning properly and efficiently, working to cool your home or office effectively while keeping energy bills down.
Regular maintenance and cleaning can also prevent potentially harmful toxins from circulating in the air in your home, keeping the air you're breathing clean and free from impurities.
System Performance
Neglecting to regularly maintain your air conditioning system can have a dramatic impact on performance, resulting in costly energy bills.
It's not uncommon for poorly maintained air conditioners to:
Struggle to effectively cool (or heat) your home.
Place additional strain on the system to produce the desired temperature, increasing power consumption.
Malfunction, resulting in damage to parts and components.
Experience blocked drains, leaks or spillage.
Regular servicing and maintenance will ensure any system issues are picked up early, with most problems being a relatively easy fix. However, when issues are left ignored, they often lead to bigger, more complex problems which are costly to repair.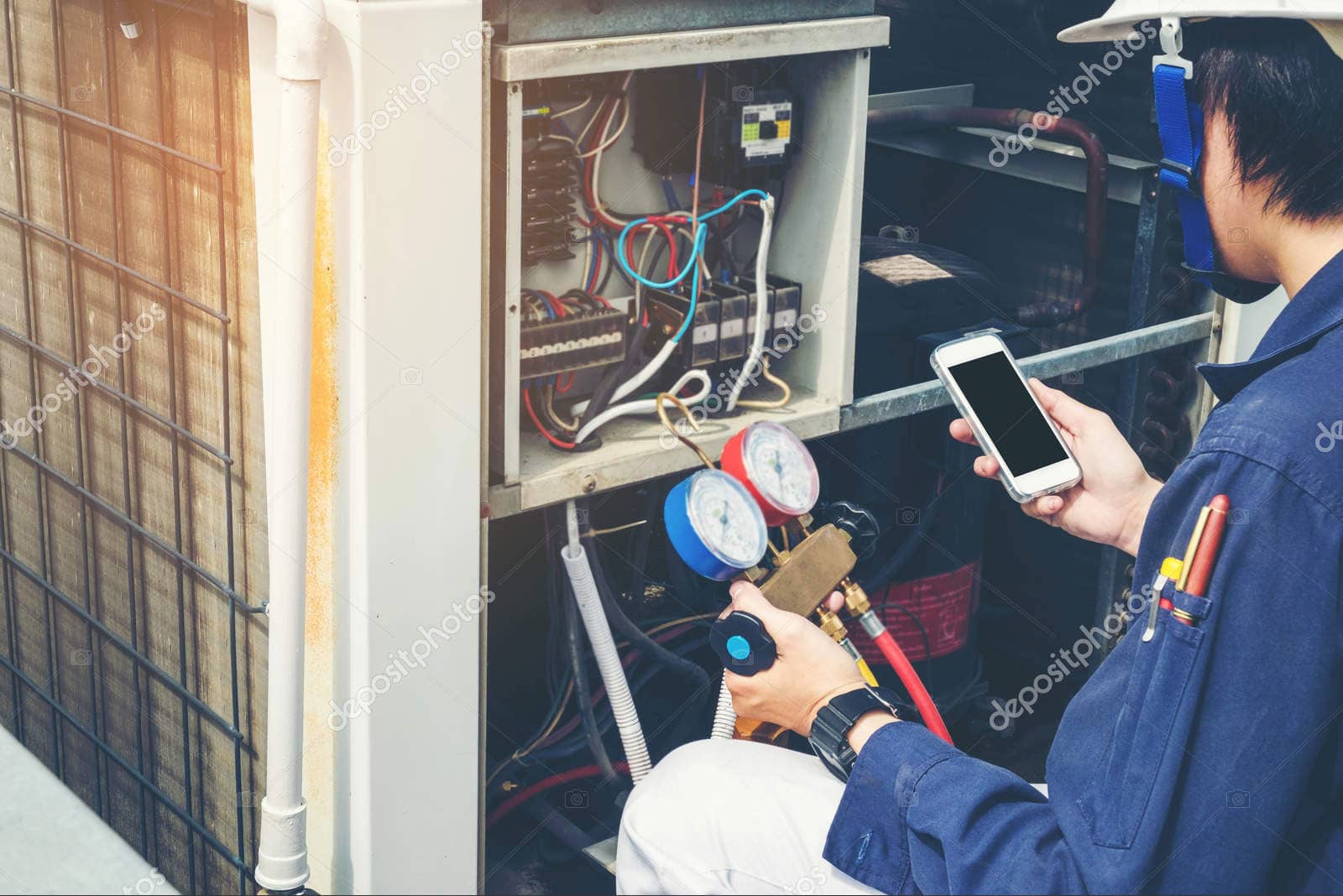 The Health Risks
Regularly maintaining your air conditioner can also protect you and your family from experiencing a range of health problems.
Airborne Toxins
While the filters in air conditioners do a great job removing toxins from the air, they do need to be cleaned regularly and replaced if damaged to be able to work effectively.
When left unchecked, there's nothing to prevent the system from circulating impurities including dust, dust mites and other allergens which are known triggers for conditions including asthma, nasal irritation and eczema. Air conditioners can also accumulate bacteria, germs and mould, which can cause similar health issues when breathed in.
Refrigerant Leaks
Air conditioners are also prone to refrigerant leaks. Refrigerant contains an odourless and tasteless gas known as Freon (or fluorinated hydrocarbons), which when ingested, can cause serious health issues including cutting off vital oxygen to your lungs and cells.
Refrigerant leaks can also cause significant damage to your air conditioning unit, so it's important to get onto them quickly.
House Fires
Like any electrical appliance, the components in air conditioners can become worn-out and damaged with ongoing use. While unlikely, if a part was to malfunction, it could present a fire risk. The accumulation of dust in your air conditioning system can also pose a fire risk.
Air Conditioning Maintenance: What's Involved
To ensure your air conditioning maintenance is up to scratch, you may be able to perform some basic maintenance tasks yourself. More advanced maintenance tasks are generally best left to the professionals.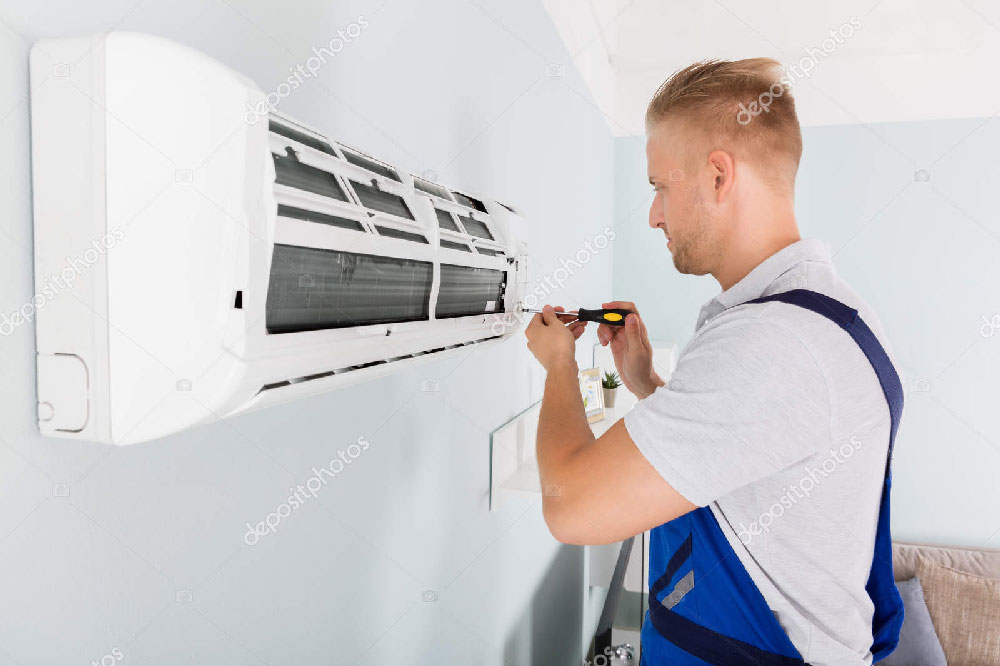 Basic Maintenance - Cleaning the Filters
In between professional servicing, it's important to regularly check and clean the filters of any dust or debris.
While you should follow the instructions provided in the user manual for the specific unit, it's generally quite easy to remove the filters and use a brush to remove any build-up before rinsing them in clean water. Ensure the filter is completely dry before putting it back in the air conditioner.
Advanced Maintenance
In addition to regularly cleaning and changing the filters in your air conditioner, other maintenance tasks that need to be conducted regularly include:
Checking refrigerant pressures, service valves and piping.
Inspecting air ducts for damage or blockages and conducting an airflow test.
Inspecting condensers, pump, drain pan and the evaporator coil to ensure they're clean and functioning correctly, also checking the high and low pressure settings.
Vacuuming drain lines.
Testing contactors, including looking for indentations or burns.
Checking fans for any cracks or damage.
Conducting an air balancing test and checking the air quality.
Undertaking static pressure testing.
Checking the thermostat is functioning correctly and conducting a thermal efficiency analysis.
Checking refrigerant operating levels.
Inspecting all electrical wiring for damage and measuring compressor voltage draw/amperage.
If you're confident you know what you're doing you may be able to attempt some of the more advanced maintenance tasks yourself, however, they're usually included in a professional service so you may want to save yourself the trouble.
While the tasks included in a professional service will vary depending on the company you use, at Easy Cool Air, our air conditioner servicing always includes all the tasks just listed to ensure your air conditioner is operating in optimal condition.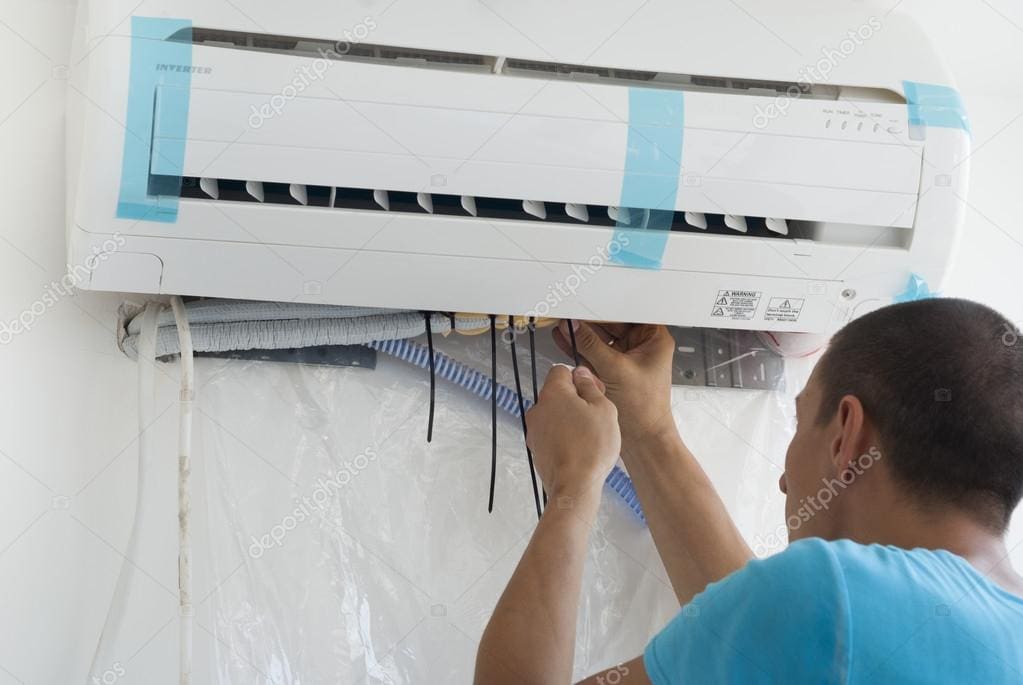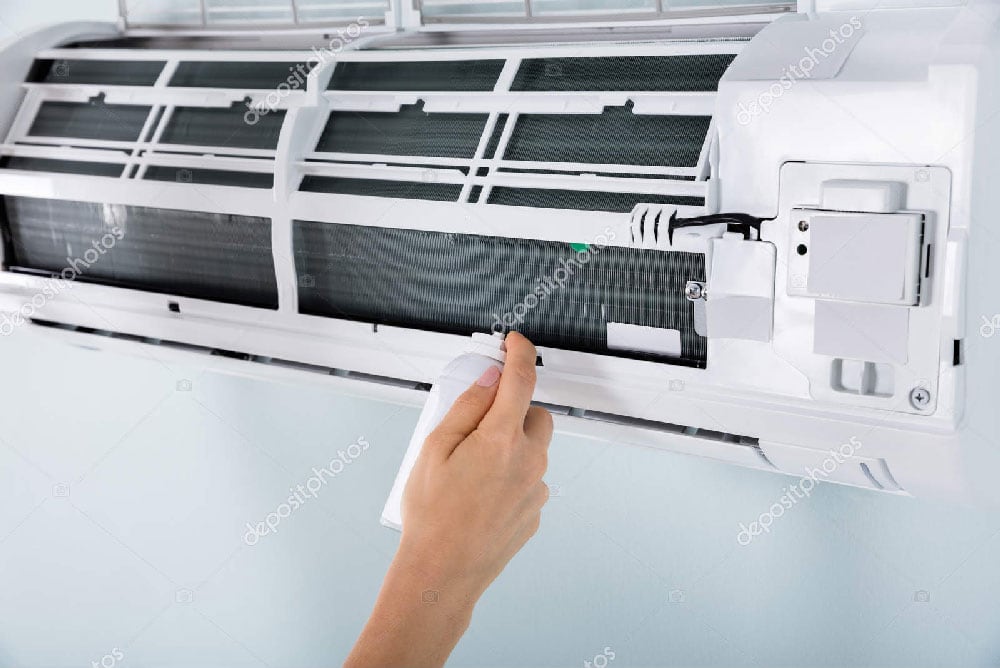 Preventing Mould and Bacteria Build-Up
When servicing and maintaining your air conditioner, it's also good to conduct hydro sanitise cleaning to ensure the system is free from bacteria, fungi, mould spores and viruses, giving you confidence that the air circulating in your home is clean and safe.
How Often Air Conditioners Need Servicing
How frequently your air conditioner needs to be serviced largely depends on your usage levels. Air conditioners that are in operation 24/7 will require frequent servicing, while air conditioners which are only used occasionally can afford to go longer between each service.
We generally recommend our customers have their air conditioning serviced:
at least once every 12 months for residential customers, or
every 3 to 6 months for customers with higher usage levels, such as commercial clients.
Signs Your Air Conditioner Needs Maintenance
Some common signs that your air conditioner needs maintenance include:
it's not cooling (or heating) effectively or efficiently
the temperature fluctuates
unusual smells or sounds
unusual smells or sounds
increasing energy bills, or
Get in Touch with Us
If you think your air conditioner is in need of servicing, maintenance or repairs, the team at Easy Cool Air can help.
As specialists in the installation, service, maintenance, cleaning and repair of all types of air conditioning systems for both residential and commercial clients in Cairns, our professional technicians can help with the full spectrum of scheduled, ad hoc and emergency air conditioning services.
Contact us to request a visit from one of our experienced technicians.
See what our customers are saying about us
Samantha Johnston

Google Review

"Nathan did a fantastic job in installing our aircon unit ready for the arrival of our baby! He also did a very thorough job in servicing our 2 other aircons that had been neglected for quite some time. He answered my call promptly upon first contact, sent me a quote and completed the work all in a matter of days and left the place tidy. Definitely recommend and will definitely use in the future. Thanks Nathan."
Inspire Early Intervention

Google Review

"Easy Cool Air recently removed and replaced ACs in our lounge and we were impressed by the professional, efficient, competitively priced work. Top bloke, tidy, on time, great job. Thanks Nathan. We've found our "go to guy" for ACs and refrigeration."
Lynne T.

Facebook Review

"Nathan and Jason installed air conditioning units. They were efficient, professional, pleasant and did a great job. Thanks guys"
Markéta M

Facebook Review

"Nathan is the best - always extremely fast and great service for reasonable prices.
He's fixed our cool room, bar fridge and aircons.
Highly recommended!"
Corey A

Facebook Review

"Nathan's quote was within days, very reasonable price and did an amazing job! definitely recommend"
Nicole S

Facebook Review

"We were very happy with Nathan's work and professionalism. We are in the process of selling our house and Nathan made it a priority to remove and replace our air con unit. He was neat and tidy and we would highly recommend Nathan."
Sheldon Realty

Google Review

"Fantastic company to send work to, they are super efficient with communication and getting to jobs ASAP, very well priced compared to other companies in Cairns I would thoroughly recommend."
Val Davies

Email Review

"Easy Cool Air recently serviced 4 air conditioners of various makes and ages at our local church. Nathan was punctual, respectful of his environment and pleasant to work with. He left the various work areas clean and tidy and provided before and after pics of his work. The serviced units are working well. Nathan's fees are in keeping with industry standards. I am happy to recommend Easy Cool Air to others requiring reliable, efficient and clean service."
Vanessa and Geoff Johnson

Email Review

"We were really impressed with your professionalism and interpersonal skills. My whole family were impressed! Thanks so much for sorting our problem and being compassionate about the poor gecko. Air con working well now! Will see you soon for clean/service."